Halong Bay sightseeing should always be one of the best things to do once in a lifetime. Taking a seaplane over the legendary Bay in Quang Ninh Province for 25 minutes is just the perfect and exciting service. Book your seaplane flight to find something new, different, and incredible with Halong Bay sightseeing!
Halong Bay Sightseeing with Vietnam Seaplane
What is 25-minute Sightseeing Flight over Halong Bay?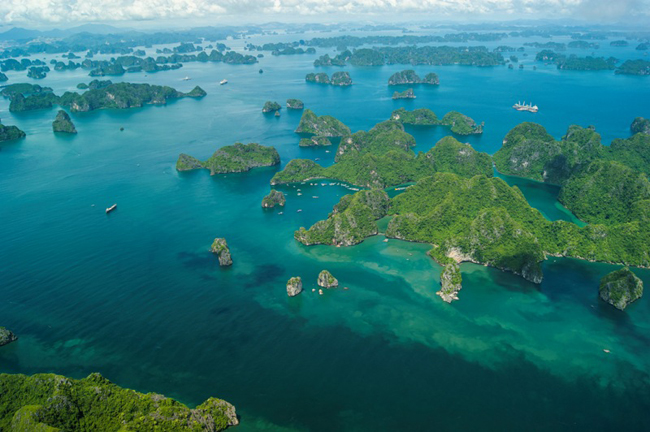 The modern seaplane takes off from Tuan Chau Island Marina to begin the 25-minute scenic flight for sightseeing over the UNESCO World Heritage site: Halong Bay! Most of the highlights of the "Bay of Descending Dragon" will present before the eyes in an uninterrupted and panoramic manner. While some passengers can't help amazing at the limestone pillars rising from the emerald water, the others might inevitably love the scattering islands of various shapes. During the 25-minute sightseeing flight, everybody finds it free to imagine and feast the eyes. You might even wonder how Nature can create such a beautiful landscape, and this should be the "right place" that you've been looking for in the rest of life. The opportunities for sightseeing and photographing during the valuable 25 minutes are unlimited and full of excitement. In some minutes, the seascape is so bewitching that makes you forget to use the cameras. Some people might prefer "recording" the beauty of Halong Bay by their eyes and minds. Even many years later, the appearance of Vietnam's legendary Bay can still cheer them up.
The "bird-eye" view from the top goes smoothly so that the whole captivating scenery of Halong Bay gets chances to show you its best highlights. As you are like a "little bird" flying over the Bay, enjoy your freedom, relaxation, and imagination at the moment. 25 minutes go fast, and you surely wish for more. No matter how many times that you fly above Halong Bay on the well-equipped and comfortable seaplane, then each time the Bay looks differently marvelous. All in all, when you get there and feel ready for the destined sightseeing flight, you might wish to share this fascinating moment with the whole world. Many other passengers do that, and it is your turn to tell the world you're enjoying it: Halong Bay sightseeing via Seaplane! Once 25 minutes pass, the flight will be back to Tuan Chau Marina. Here, some travelers might opt for the adventurous cave expeditions because Halong Bay owns numerous mysterious and amazing grottoes. You might notice some signs of grottoes while flying around Bo Hon Island. If interested, don't be reluctant to get your Halong Bay Tour fulfilled. Otherwise, what about taking another sightseeing flight? You might love this idea! 
Departure and Arrival Point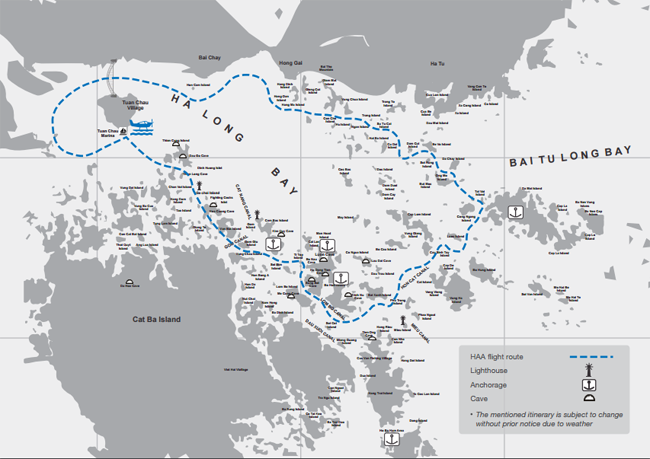 The point of departure and arrival is Tuan Chau Marina. Its location is No T7 Tuan Chau Commercial Urban Area, Tuan Chau Ward, Ha Long City, Quang Ninh Province, Vietnam. So, you might go there on your own to get the flight ticket for Halong Bay sightseeing in 25 minutes. Otherwise, seek help and guidance from your tour agents! They will arrange everything for your second-to-none flight above "the Bay of Descending Dragon," and ensure your happiness during 25 minutes. 
The Best Attractions for Halong Bay Sightseeing Flight
Dau Be Island
Dau Be Island is set in the southeast of Halong Bay, 28km from the Bai Chay Tourist Wharf. It is a beautiful and untouched island like a girl with no makeup. ContemplatingDau Be Island from the top dimension keeps you relaxing and cheerful. Look for an area in the outer archipelago of Halong Bay (Lan Ha Bay estuary), just between Tra Ngu Island and Da Le Island.
Cong Do Island
The southeast of Halong Bay is additionally pictured with Cong Do Island, around 25km from Bai Chay Tourist Wharf. Know that Cong Do Island belongs to the Bai Tu Long Bay region which was admitted as the UNESCO World Heritage. When flying toward this area, expect to enjoy sightseeing a mesmerizing area of 23,363 square meters as well as the 172m mountain peak. Also, don't forget to look for various lagoons there. Undoubtedly, the lagoons are homes to numerous sea creatures, from shrimp to squid, crab, fish, and everything in between.
Bo Hon Island (Soap-Berry Tree Island)
This area is magnificently eye-catching with the big size as well as the exquisite landscape. Bo Hon Island owns the primeval and picturesque beaches, and of course, it is a big mistake if not mentioning its enigmatic grottoes. The most outstanding grottoes include the Sung Sot Cave (Surprising Cave), Luon Cave, Virgin and Male Cave. In particular, the Surprising Cave can surprise every visitor as this one of the biggest and most marvelous caves in Halong Bay. The promoted cave also possesses the great lighting system which makes it easy for sightseeing the age-old stalagmites and stalactites. You might further the Halong Bay sightseeing tour in 25 minutes with the cave expedition then.
The attraction of Bo Hon Island is also recognizable with the high mountains, the vertical cliffs looking similar to the citadel walls. Admittedly, its grandeur and attractiveness surprise every eye, and the impression will last long. If you seek for a giant, existing, and spectacular watercolor picture of the sea, ask the pilot to bring you over Bo Hon Island. Just don't miss this incredible highlight!
Know the Greatest Facts of Halong Bay before Your Flight
Halong Bay received the title of UNESCO World Natural Heritage Site in 1994.
The Bay shares its border with the Gulf of Tokin to the south and southeast, Cat Ba Island to the west and southwest, and China to the north.
Its total area is 1.553 square kilometers, with 1.969 islands of numerous sizes and shapes. Most of the islands are limestone and picturesque.
Halong Bay is ideal for every kind of tourism, from sightseeing to ecotourism.
The most notable islands in Halong Bay include the names of Dau Be Island, Cong Do Island, Bo Hon Island, Ga Choi Islet (Fighting Cock Island), DauNguoi Island (Human Head Island), Con Coc Islet (Frog Islet), Ngoc Vung Island, Ti Top Island, and Tuan Chau Island.
The most impressive caves in Halong Bay are Sung Sot Cave (Surprising Cave), Dau Go Cave, Thien Duong Cave (Paradise Cave), Trinh Nu Grotto (Virgin Grotto), and Bo Nau Cave (Pelican Cave). Until now, there is no exact number of caves or grottoes in the 1.969 islands in Halong Bay! While these caves are renowned, the other remain less well-known or even unknown to the tourists.
Possible Fare for 25-minute Halong Bay Sightseeing Flight
If you ask for the fare per passenger to have this flight of the lifetime, then the answer is USD$99. You are expected to pay USD$99/pax for the incredible sightseeing experience over Halong Bay, the Vietnam's UNESCO World Natural Heritage site in 1994.
Note that the booking for this flight applies to the minimum of 3 passengers! If you book this service with Hai Au Aviation, then the price of USD$99/pax is valid from 1st April 2016 to 31st December 2016. Take notice of the amount and time frame so that you can plan for the next wonderful seaplane trip over Halong Bay!
Click here to Book Halong Bay sightseeing tour by seaplane