What will you do for your summer 2015? A cruise trip to Halong Bay is surely one of your very best choices. The natural beauty of Halong Bay is absolute and none can deny such hard fact. On the UNESCO Natural Heritage Site status, the magnificent Bay is highly remarkable with its out-of-this-world reputation. So, when will you come here for real? This summer 2015 is best time to move. And if you agree with us on this idea, let us draw your mind to the Summer Promotion Dragon Legend Cruise 2015 today! This excellent promotion is what everybody needs to explore the heavenly Bay in economical and exciting manner.
Dragon Legend Cruise is the newest member of Indochina Junk luxury cruise which runs multiple nights on the beautifully primitive Bai Tu Long Bay. The new luxury cruise has the 5-star standard with the spacious 24 cabins, modern amenities, and excellent services. Staying on the Dragon Legend, passengers will be well treated with the real bed of roses as they're the prestige characters.
Along your cruising route to the less crowded Bai Tu Long Bay, it's assured that your eyes will be pleased with the scenic seascape which is made up of many thrilling essentials. Besides, your physical health is secured with the attentive services, safely comfortable stay, and hygienic gastronomy. Once embarking on the Dragon Legend Cruise, the vacationers will soon be captivated by the pristine picture of Bai Tu Long Bay. If the fulfilling voyage is your desire in this summer time, make it a reality with this outstanding cruise!

Daily Seaplane Hanoi – Halong Bay
To save you time and energy, the modern seaplane from Hanoi to Halong Bay is run on a daily basis. Just flying in minutes to reach this captivating bay! Traveling with the seaplane and you will get immersed into the high-class services and self-indulgent accommodations. From the view of birds, freely spread your eyes over the emerald green water and entire beautiful ambiance. Of course, you will get what you've paid for. The seamless combination of Seaplane and Cruise gives every guest the awesome chances to fully explore Halong Bay indeed.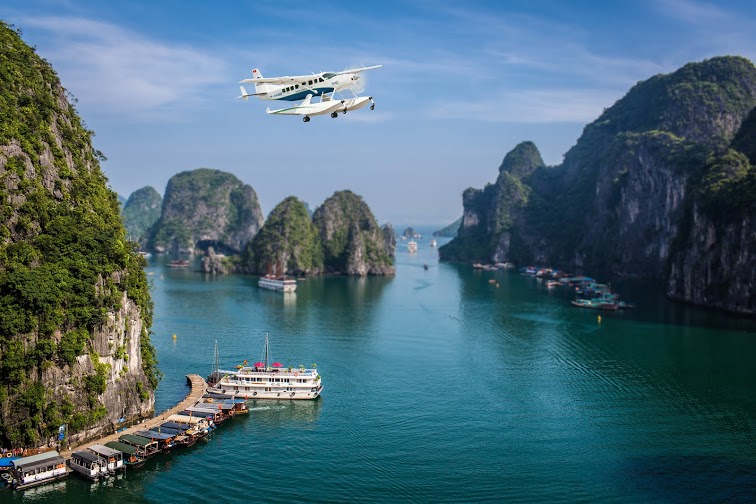 Big Discount on both Dragon Legend Cruise and Seaplane
Be nimble-footed to get the very BIG discounts on both the Dragon Legend Cruise and Seaplane until June 30, 2015! Note the milestone to arrange for your summer trip from now on. You will keep smiling to get 20% OFF for the cruise trip on the newly modern Dragon Legend Cruise. How about the seaplane? Just pay for one-way ticket and with this promotion, you receive the FREE ticket for another-way ticket. How perfect the promotion is! As the early birds catches the worms, be the smart vacationers to grab the discount rates and FREE offer early on! Flying to Halong Bay will never lack excitement.
Tour price in USD per person in sharing double cabin, valid till 30 June 2015 only !
| | | |
| --- | --- | --- |
| Option | Services include | Price per person |
| Option 1 | Return transfer by Luxury shuttle van + Dragon Legend Cruise 2 days Package | 230 |
| Option 2 | Return transfer by Seaplane + Dragon Legend Cruise 2 days Package | 640 |
* Contact us at seaplanes@vietnamtravels.com for further information !
So, which destination should you invest your summer time in? The answer should always be Halong Bay. And if you actually choose Halong Bay, see its real charm via the two excellent means of transport, which are Seaplane and Dragon Legend Cruise – your best choices in this summer 2015 ever.