What Makes Mui Ne Beach Vacation Charming?
Informatively, Mui Ne is voted as the top destination for beach vacation in Vietnam. So long as you are the beach lovers, it is encouraged to set foot on Mui Ne to discover its real charm as one of the most beautiful beaches out there. Featuring the tropical and warm weather, the beach is wonderfully ideal for swimming. Thanks to the strong sea breezes, Mui Ne is best renowned for kiting and wind surfing. From November to March, we can witness the clear sky and strong wind from the morning till the late evening. Hence, your beach vacation will never lack excitement with lots of activities to do such as flying a kite and learning surfing from the beach boys!
Of course, it can't help voting for the picturesque seascapes – the perfect background for the imposing photos and videos. In addition to the pure stay on beaches at Mui Ne, there are many fantastic spots for the tourists to explore such as Fairy Springs, Fish Sauce Plants, Phan Thiet Water Tower, Takou Mountain, Poshanu Cham Tower, Sand Dunes, and Mui Ne Village Market. The fascination of Mui Ne Beach Vacation
Luxury Resorts at Mui Ne for Perfect Beach Holiday
Be voted as the most ideal destination for Beach Vacation, Mui Ne rises to fame thanks to the growth of many luxury resorts and hotels around. The Beach Resort offers the world-class stay for those that want to run away from the bustle of city life. As the top resort in Mui Ne, the Beach Resort offers no shortage of the sumptuous amenities. Along with that, the pure worry-free sense of relaxation is also triggered from Anantara Mui Ne Resort & Spa, Victoria Phan Thiet Resort & Spa, Sea Horse Resort, Aroma Resort, Rang Garden Beach Side, Cliff Resort & Residences, Blue Ocean Resort, and many more.
With the wide ranges of selections over accommodation (over 144 hotels & resorts), the tourists are stimulated to opt for the perfect stay according to their favorite and budget. While Rang Garden Beach Side offers the spaciously modern rooms with the view of sea, Romana Resort & Spa evolves the spectacular view over the Mui Ne Beach from the private mountain, for instance.


Seaplane
Cessna Grand Caravan 208B EX
Cessna Grand Caravan 208B EX seaplane seats up to 10 passengers. This vehicle can be flexible, taking off and land on both land and water. The flight takes 45 minutes from Saigon to Mui Ne.
Mui Ne Resorts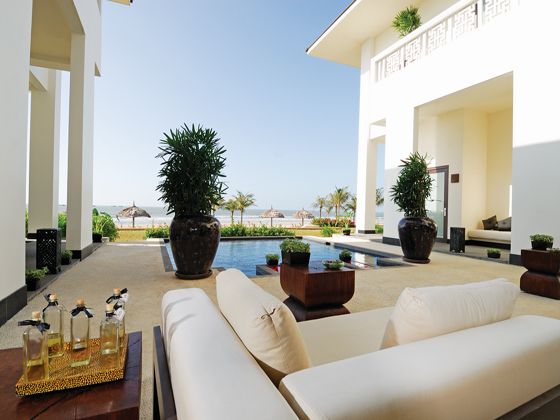 Various Promotion Packages
Choices from 4-star to 5-star beach resorts during the year: Anantara Mui Ne Resort & Spa, Victoria Phan Thiet Resort & Spa, Sea Horse Resort, Aroma Resort, Rang Garden Beach Side, Cliff Resort & Residences, Blue Ocean Resort…
Price per person in US$ (Valid Dec'14 – Now'15)

Stay at resort

2-way seaplane Saigon – Mui Ne

3-night package from (sharing double)

Princess d'Annam
Anantara Resort
Victoria Phan Thiet Resort & Spa
Amaryllis Resort
Blue Ocean Resort
Cliff Mui Ne Resort Resort
Aroma Resort
Seahorse Resort