Link to Halong Bay Cruise Summer Promotion 2018 updated here!
Halong Bay is the tourism gem which brings fame and pride to Vietnam. People say it is a paradise for a cruise trip, looking like you are sailing in a fairy world. This top-of-the-top choice is ideal for sightseeing, cruising, and relaxing all seasons, especially during summer. For encouraging you to see the Bay this summer, Halong Bay Cruise Summer Promotion 2017 is going to come into effect from May 1st, 2017 to September 30th, 2017. Ideally, this period might be your best time to see Halong Bay.
Halong Bay and Tours with Discounts: from May 1st to September 30th, 2017
Halong Bay seems to surpass any other destinations in Vietnam. It is gifted with heavenly limestone islets, emerald water, idyllic floating villages, and mysterious caves filled with the age-old stalagmites and stalactites. It as unrivaled charm in Ti Top Island, Dau Be Island, Ngoc Vung Island, Tuan Chau Island, Sung Sot Cave, Thien Duong Cave, Dau Go Cave Cua Van Fishing Village, etc. The scenery is dramatic and appealing enough to be filmed in any Hollywood film, and amaze the whole world. Once being inscribed as the UNESCO World Heritage site in 1994, this "Bay of the Descending Dragon" has long been included in the "bucket list" of many nature lovers.  And recently, the effects of a Hollywood monster film, Kong: Skull Island (2017), directed by Jordan Vogt-Roberts make this Bay more famous than ever.
Take your opportunities to get Halong Bay Tours with discounts (from May 1st to September 30th, 2017)! The cruise summer promotion 2017 in Halong Bay stimulates more and more holidaymakers to see and play. While accommodation onboard is luxurious and sceneries of beach, islet, and cave are captivating, the activities of squid fishing, swimming, kayaking, scuba diving, etc., are all exciting. Heading toward Halong is the best choice to avoid scorching heat this summer, and more importantly, with the discount season, you pay less but get more from the promoted Luxury Cruises plus Seaplane.
2-Day Halong Cruise Tour with Jasmine and 1-way Seaplane: Only 556 USD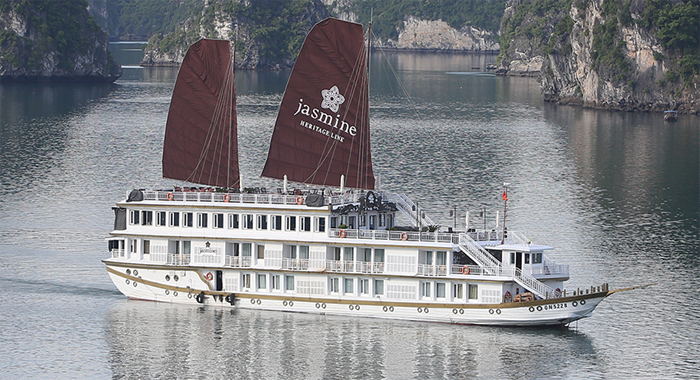 Traveling to Halong Bay is what many travelers have been enjoying while the rest is targeting it. There must be something appealing in this site for nature lovers and people alike. For discovering this legendary destination, consider the services of Jasmine Cruise & Seaplane – the perfect combination. In fact, Jasmine Cruise is reputable for luxury and worth-the-money services. Being aboard brings you to the "5-star floating hotels" with upscale amenities and dedicated support, treating you as the prestigious customers.
Only paying 556 USD for the delightfully memorable 2 days in Jasmine and the 1-way seaplane, you will soon agree that this is a smart choice indeed! As one of the largest Halong Cruises, Jasmine ensures you to have the spaciously comfortable cabins for resting, beautiful lounges for relaxing, fantastic balcony for sightseeing, convenient dining rooms onboard, and so forth. After minutes of bird-eye sightseeing on the great seaplane, you then embark in Jasmine and begin a wonderful voyage. The well-equipped and elegant junk named Jasmine brings you to the best of this natural wonder.
Click here to see full 2-day-1-night tour package of Jasmine Cruise Halong and seaplane !
2-Day Halong Cruise Tour with LaFairy and 2-way Seaplane: Only 695 USD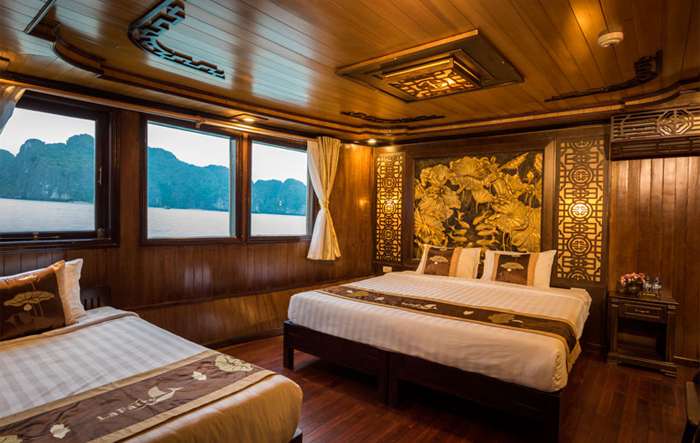 Linked to the discount season, the LaFairy Cruise offers the 2-day packages plus 2-way seaplane flight with only 695 USD! This appealing discount creates new chances for many passengers to experience the high-class stay in the upscale LaFairy. It might be a target of various individuals who might want to enjoy the nightlife onboard LaFairy but feel hesitant because of the budget matter. Then, use this opportunity to "hit your target" for the 2-day stay plus the exciting 2-way seaplane flight for the dreamlike panorama. From the sparkling dinner on the top deck to the ideal "off-the-beaten-track" itineraries and the incredible cabins, your experience in Halong Bay becomes amazing and unique.
With a discounted charge of 695 USD, the packages in LaFairy and Seaplane become easier and greater than you ever think. If you adore the incomparable charm of Halong Bay and the unique luxury of LaFairy, then this might be a precious chance that you have been long for! Just entrust this nice Cruise with your voyage to Ti Top Island, Me Cung Cave, Cua Van Fishing Village, and more.
Click here to get full details of 2-day-1-night Lafairy Cruise Halong and seaplane package tour !
2-Day Halong Cruise Tour with Paradise Luxury and 2-way Seaplane: Only 756 USD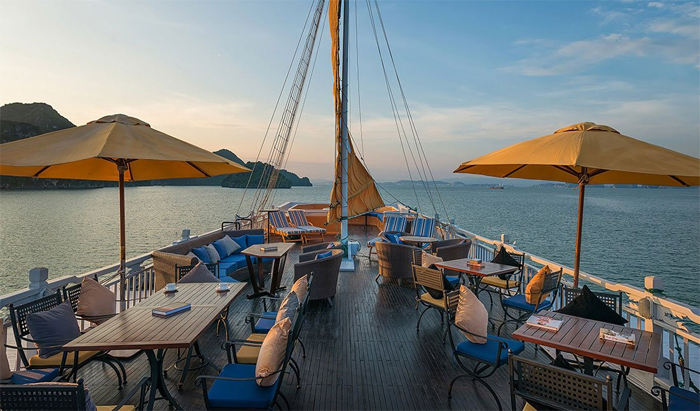 The super special summer promotion is also available at Paradise Luxury Cruise which involves the 2-day stay onboard plus the 2-way seaplane ticket for only 756 USD. Summertime will become more interesting than any other season if you invest it in Paradise Luxury – the best way to see Tuan Chau Island, and many other highlights in Halong. In the Vietnamese traditional yacht style, this Cruise is equipped with the spa room, refined amenities, panoramic balcony, etc. You're guaranteed to be delightful, comfortable, and energetic during the day-and-night relaxation via the sightseeing seaplane joy and the voyage toward the far-off islets as well as the enigmatic grottoes.
Paying for the $756 packages, you save your seat in one of the best cruises in Halong Bay, and be ready for the second-to-none explorations! The relaxing voyage along the marvelous Bay makes you feel like you are wandering in an existing paradise where the sky is blue, water is emerald, and the scenery is extremely peaceful and enchanting. Paradise Luxury Cruise gives one of the best deals which you demand. So, what are you waiting for? Be "early birds to catch the worms"!
Go to 2-day-1-night Paradise Luxury Cruise and seaplane Halong package !
3-Day Halong Cruise Tour with Au Co Cruise and 2-way Seaplane: Only 986 USD
The state-of-the-art Au Co Cruise also joins this discount season. You only have to pay 986 USD for 3-day packages in Au Co Cruise and 2-way seaplane flight. After the uninterrupted, bird-eye seaplane experience to reach Halong Bay interestingly, the passengers then embark in the big and well-amenity Au Co vessel which secures your safety and comfort during the tours. This vessel is surely perfect for the long stay of three days and more when you receive the constant support from the staff, high-quality equipment and gadget, 360-degree view, and more. Every facility on Au Co remains up to date, and of leading standard.
The Au Co and seaplane packages of 986 USD enrich your options to explore this natural heritage where you should see for yourself why many international travelers admire it. Working with Au Co Luxury Cruise, your money is beneficially invested while comfort is topmost. The discount makes this summer the ideal time to discover "The Bay of the Descending Dragon"; it is hard to find any other better deals. So, if feeling like Au Co is your top choice, don't be reluctant to contact and book!
Go to 3-day-2-night The Au Co Cruise Halong and seaplane tour in details!
Book Halong Bay Seaplane and Cruise Tour Summer 2017!
In this marvelous natural landmark, there is no room for stress or boredom. Instead of waiting what is called "the right time" to visit Halong Bay, carry out your idea and make it true as soon as possible! Book your Halong Bay Seaplane and Cruise Tour 2017 for summer vacation in advance now! Once booked, it's taken for granted that you have something enjoyable and engaging to wait for from this moment. While the 2-way seaplane sightseeing is amazing, the overnight Luxury Cruises (Jasmine, LaFairy, Paradise Luxury, or Au Co Cruise) ensure your comfortable stay during days and nights at the competitive prices. Just celebrate your summer in Halong Bay!
Do feel free to contact us via email to seaplanes@vietnamtravels.com to receive the latest updates about Halong Bay Cruise Promotions and Seaplane Ticket Booking Discounts 2017!